In this article I would like to introduce you to a new decentralized EOS exchange - WhaleEx. But before we jump into this discussion, a short detour is in order.
Decline of Centralized Exchanges
If you are like me you will find yourself less and less frequently using the powerful exchanges of the past few years: Binance, Huobi, KuCoin, Bittrex etc. Recent market conditions discouraged a lot of speculators and traders of the past and forced them either exit the market altogether, or turn their strategy into HODLing. This behavioral change must have surely negatively impacted exchange volumes.
All of these exchanges are also highly centralized. If you are a strong believer in the decentralized economy, these exchanges' centralized function may impact your decision whether to utilize them or not. Stories of prominent crypto exchange hacks or shutdowns are still vivid in our memories. Remember one of the main crypto postulates: never leave your assets on a centralized exchange! One day you will wake up to the news that the exchange was hacked or embezzled your money. It is just a matter of time. Centralized exchanges also have a tendency of reporting their data to the regulators, which is also not a desirable scenario for some of the crypto investors, who, for instance, may believe that taxation is an unfair process, to put it mildly. As more and more investors understand these risks, decentralized exchanges will continue to eat into the centralized exchanges piece of the customer pie.
Finally, the more important reason why I am no longer a frequent user of the centralized exchanges is because I drank a proverbial EOS Kool-Aid.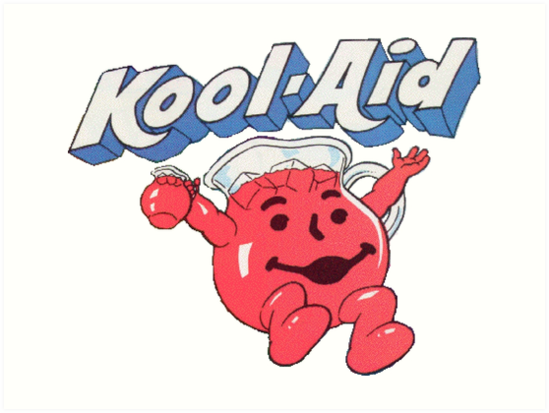 None of these major exchanges allow me to fully participate in the developing and booming EOS ecosystem that I strongly believe in.
EOS Ecosystem is exploding
With the development of the EOS ecosystem, EOS-based tokens have turned into an economy of their own. Cypherblock website lists 126 such tokens including EOS itself. How's that for a 6 month old EOS ecosystem?!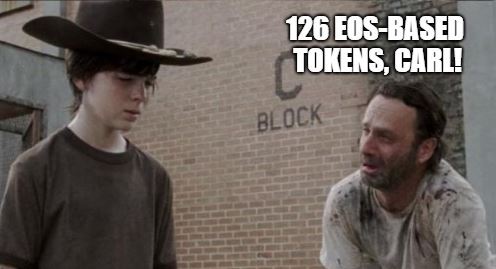 Total market cap for all of the EOS-based tokens combined excluding EOS is $691M and it is growing rapidly. EOS token, following a significant drop in its price from $20 down to $2.9 now, has a $2.9B market cap. These EOS-based tokens nowadays comprise nearly 20% of the entire EOS ecosystem. Here's a list of Top 20 sorted by market cap in USD.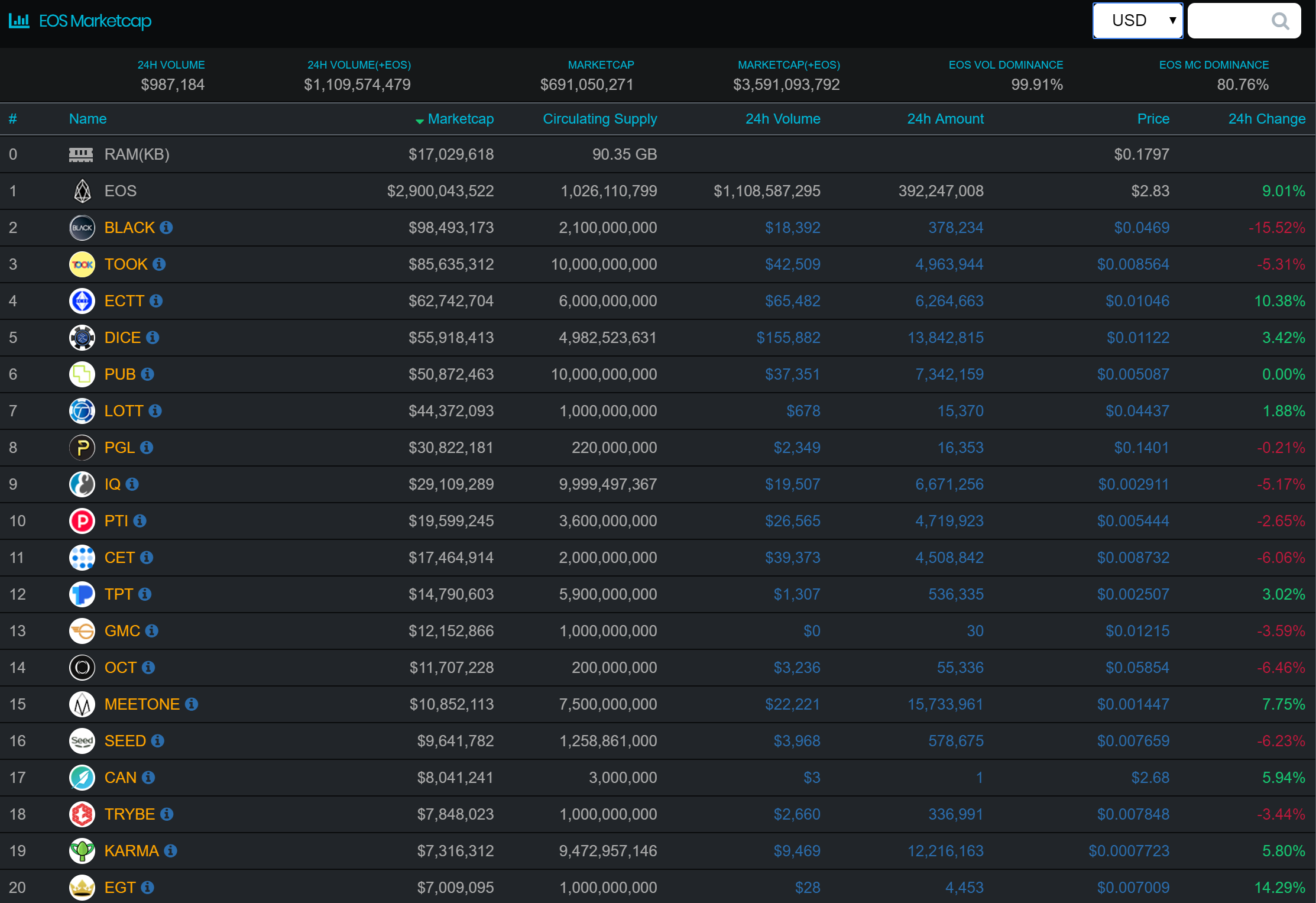 And imagine this: if you want to trade any of these tokens, you won't be able to trade them on ANY of the top crypto exchange in the world! A lot of these projects are on the path to become the next crypto unicorns, yet none of them are listed on any major exchange!
And this is where WhaleEx comes into play.
WhaleEx: perfect exchange for the EOS ecosystem

WhaleEx is a decentralized cryptoexchange currently offering markets for the EOS-based tokens. Company is registered in Singapore, but the team is located in two offices in China: Shanghai and Hangzhou. WhaleEx team is rapidly growing and currently numbers 20 employees. It also has a strategic relationship with a business consultant company Moran. More about this relationship later. WhaleEx and Moran are both funded by Zhao Yi, a Chinese entrepreneur who finished Hupan University - same school as Jack Ma of Alibaba and Justin Sun of TRON.
Highest Transactional Volume
WhaleEx is a relative newcomer into the EOS world. It was officially launched on November 7th, 2018. Despite its nascent age, the exchange already claims to have the highest transactional volume among all of the EOS exchanges. However, due to the nature of their smart contract a correct Tx count does not yet get properly reflected in DappRadar, a popular EOS dapp tracker.
The reason for this is the fact that only the deposit and withdrawal transactions get counted by DappRadar, leaving all of the transactions within the individual's WhaleEx account unaccounted for.
Modifying Jack Welch's Motto: Ambitious Future Plans
Just like China has sprung into a world superpower status in the last 20-30 years, WhaleEx team also maintains very ambitious growth plans.
During his tenure as the CEO of General Electric, Jack Welch, who was recognized as the greatest manager of the 20th century had a motto that GE needs to be first or second in any industry it operates in, or... get out of that market. WhaleEx team wants to one-up Jack Welch's ambitions by setting a goal of being "the 1st in the crypto exchange market". Period. Second place is not an option.
KYC - Know Your Customer: a preference, but not a requirement
To demonstrate to the the market seriousness of its ambitions WhaleEx team requires all of its customers to get KYC ("know your customer") approved. In today's regulatory environment it is hard to foresee a crypto exchange operating within the legal boundaries that does NOT know its customers. Therefore, WhaleEx team takes preemptive measures requiring its customers to follow the regulations to position itself well prepared for the expected hockey-stick growth.
Despite customer uneasiness and hesitation about following the KYC process, there's a shifting trend to require it from the regulatory perspective. Many ICOs began using KYC as a requirement, and so did all the biggest exchanges such as Coinbase, Gemini, Kraken and many others including DEXs like Shapeshift. KYC is viewed as the the step towards legitimizing the business and WhaleEx team is betting on this trend rather than against it.
It is important to point out, however, that KYC is NOT a requirement to register an account with WhaleEx and trade on the platform. There is a daily trading limit of 100,000 RMB (approx. $14.5K) for non-KYC accounts, which allows non-heavy traders to come trade on WhaleEx without passing KYC.
1080 Plan
WhaleEx team has established an explosive strategic growth plan called "1080":
"10" refers to 10-wan (Chinese for "10,000", in Western cultures also called "myriad"), or 100,000 KYCed users in total. As of the time writing of this article WhaleEx already registered 16,500 KYC accounts with attached EOS accounts.
"80" stands for achieving 80% of the global trading volume for each pair traded on the platform. There are currently 25 trading pairs listed on the WhaleEx platform.
200,000 Free EOS Accounts
To accelerate EOS network effect and speed up its initial growth, WhaleEx recently partnered with the two most popular EOS crypto wallets in China: MEET.ONE and TokenPocket to give away 100,000 free EOS accounts per each wallet to its customers, or 200,000 in total. As of recently, total number of existing EOS wallets in the entire ecosystem stood at 500,000. Therefore, WhaleEx committed to increasing a total number of existing EOS wallets by up to a whopping 40%. These two promotions are still live!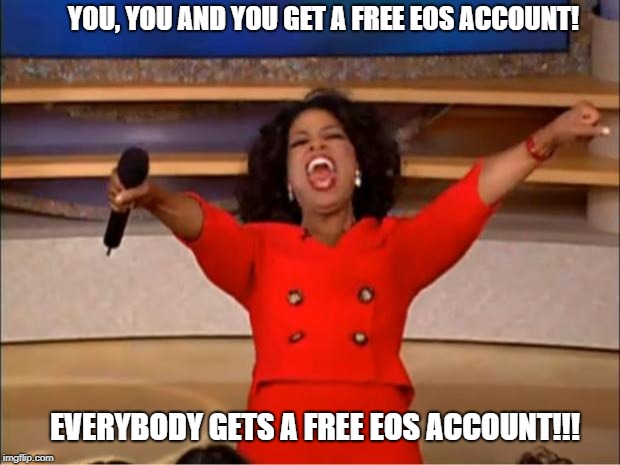 EOS World Tour
As I mentioned earlier one of the main strategic partners for WhaleEx is Moran. Aside from helping promoting the platform, Moran also facilitates organization and hosting of the EOS World Tour which is a series of promotional meetings aimed at creating awareness around the EOS ecosystem and EOS dApps.

Since the first event in Seoul, Korea on Sept 16th, meetings were held in Xiamen, Shanghai, Shenzhen, Beijing and recently San Francisco. This event helped promote over 40 EOS projects from China, US, Korea, UK, Ukraine, and Canada and had thousands of attendees both in person and online.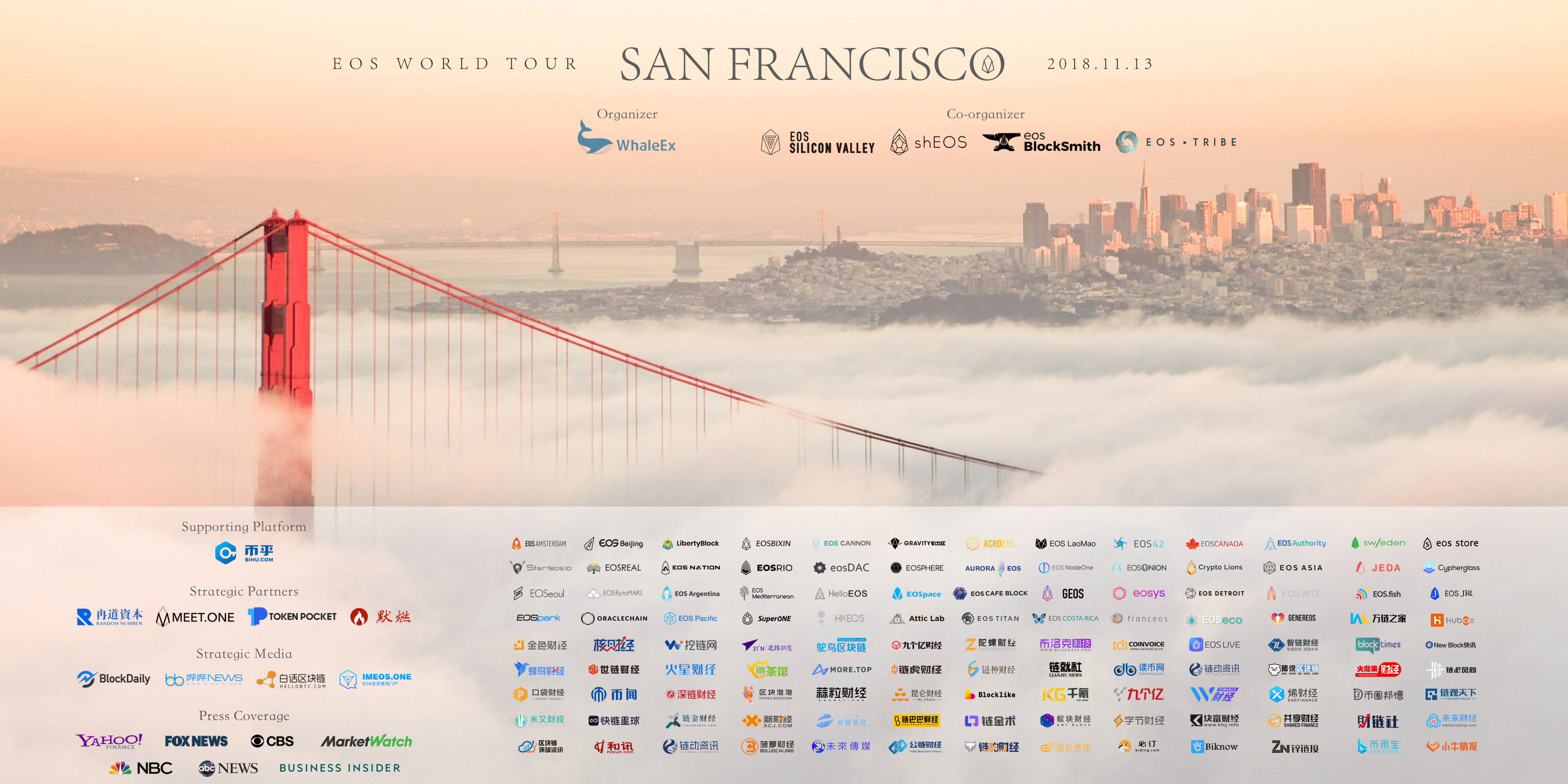 In conclusion
In conclusion, WhaleEx has one ultimate goal: to become the top crypto exchange in the world. It started on its path of achieving this goal quite with a bang. It already registered over 16,000 new KYC-ed users. It is leading in transactional volume by a wide margin vs. its main rival, another EOS exchange Newdex (I will talk about statistics for this claim in a separate article in the future). It has already achieved significant prominence and awareness in Asia through its free account giveaway campaign with Meet.One and ToketPocket. It also does well for the EOS community by promoting interest in the EOS ecosystem with the organization of the EOS World Tour. And now WhaleEx also want to penetrate the western markets. And to us it certainly looks like it is very well positioned to do so in the near future!