TLDR: Traffic jams are boring. Flying cars are ready to take-off. Blockchain-based community can deploy infrastructure for the air taxi.
Problem: We are stuck in traffic
Traffic jams have serious negative consequences in terms of time futility, increased fuel consumption, higher emissions, loss of property and human life. Days and weeks are wasted by sitting in traffic. Multiply them by population, average pay, and you will get annual economic losses globally.
Solution: Urban Air Mobility
The key to unlocking the new value is adding the 3rd dimension for our daily commute. Flying cars or eVTOL (electric vertical take-off and landing). These aerial vehicles are one of the fastest and disruptive technologies to launch urban air mobility market. It will change how we travel in- and between cities. That will drive the efficiency of our economy, and transform the urban development landscape. And it's not a sci-fi anymore.
Technology: Already here
The tech is ready. Parts are available online and you can make a plain DIY flying car. More than 50 teams of engineers from around the world create hovercars and some of them cumulatively raised more than $0.5B in the last few years. Cities and states support the industry. Electric air taxi is in so many ways better than heli-taxi. They are safer, quieter and cheaper. It means that personal aviation will become mass.
Market: It's huge
At least 7 vehicles are full-scale and 3 of them are making piloted flights. Some are becoming available for pre-order today. Others will take-off in the next couple of years. The market size, according to very cautious predictions, is expected to reach 1.2 Trillion USD per year. And that's only for the pay-per-use air taxi.
Roads? Air is practical
Let's think about the difference between the existing infrastructure of urban mobility and urban air mobility. It's the air. If you want to travel 100 miles from A to B by ordinary car, you should invest a lot in the road construction. Multiply 24 feet for two highway lanes by 100 miles and you will get 2400 square miles of asphalt and other layers. The flying car will require 240 square feet to build a couple of landing pads.
Why McFly.aero is here
Our mission in McFly.aero is to make flights affordable in as many cities as possible. That's why we've launched a business and technology incubator for the air taxi. It consists of two parts: 1) Consortium — the group of companies developing technologies to make air taxi possible, 2) Community — entrepreneurial minds implementing these technologies into glocal air taxi grid.

One of our flying car developers
Here's the latest video from Bartini — the startup for designing an eVTOL:
Blockchain: How it works at McFly
Essentially, McFLY token is an ignition key and a ticket-to-ride. Blockchain technology will be used, apart of purely technical "under the bonnet" solutions for the grid, to make the vehicles' flights available to holders of McFly tokens. eVTOL manufacturers in the Consortium intend to operate on the premise that one unit of measurement can apply to both the technical lifetime of the vehicle and the value of its function.
We use tokens for the flight and other IoT devices usage measurement, for the safety to prevent possible odometer rollback, to keep all the info across different geographies, and to account all wallets, including pilots and passengers. It's also the incentive for the community, natch.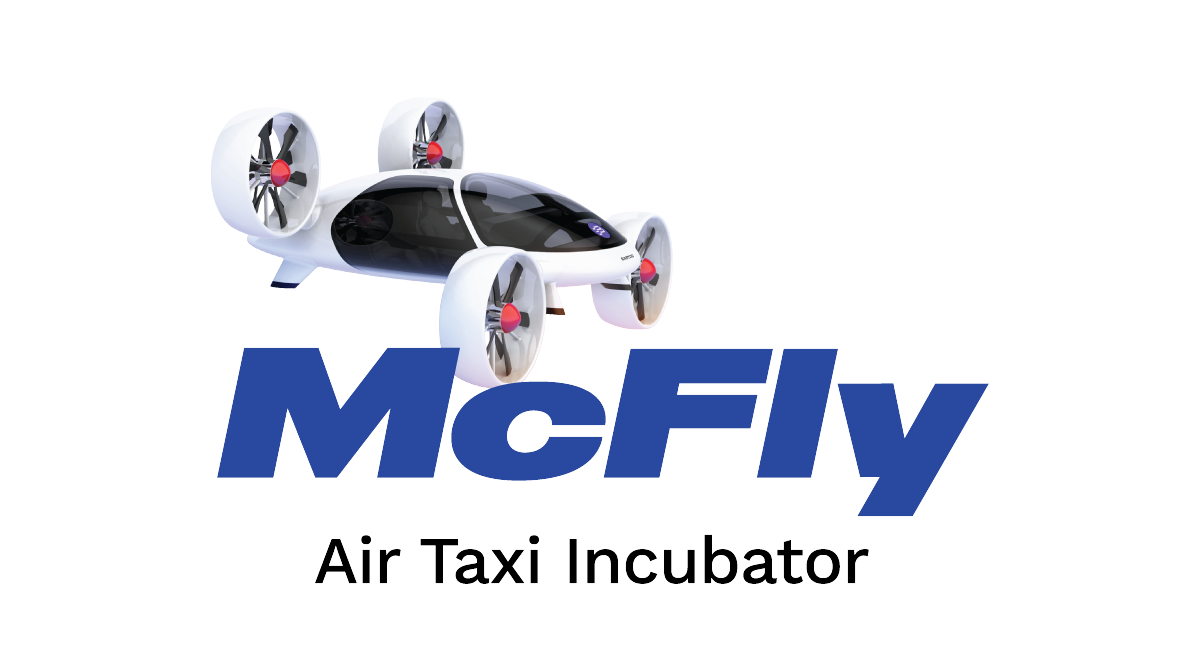 McFly business model: Franchise
Anyone can join us to understand what is needed for the city to start and 1) we will design your business model, 2) help you get discounts on flying cars, get them leased and arrange insurance, 3) provide architectural solutions and equipment for landing pads 4) provide the software for the air taxi fleet management and teach how to use it, 5) connect you to the experience of entrepreneurial community.
Blockchain can be valuable
Digital currencies and the entire hype around them form a blind spot right in front of our eyes which prevents us from seeing meaningful processes. Crypto enthusiasts mostly see only currencies and speculations. No matter if it's fiat or crypto. The currency connection is the only one that connects our good old meatspace with the virtual reality of blockchain. One of the possible consequences of our project is to make the new quality relationship between these worlds. To connect blockchain with the value of flight.
Roadmap status
We have now: the wide-spread network of industry experts and trusted developers of infrastructure solutions; signed MOUs with several cities; architectural solutions for few landing pad types, and a business book for the franchise. Also, we've been building "Urban Air Mobility City Readiness Index" to assist in the understanding of the current state of our industry.

Last but not a trivia
Our token launch is partly made akin EOS principles. Undistributed McFLY Tokens will be split into 5 equal parts. The first part is already available during the first Special Opportunity Window. It goes from the 29th of September until the 10th of October 2018.
Those who send ETH in exchange for McFLY will get 176.8M McFLY tokens in total. In fact, it's an equivalent of the technical lifetime of 252 Bartini vehicles. If you are lucky enough and the only one who sends ethers, you'll get all of them. Or you can tell your friend and share the loot. Human psychology and your values will show up.
Got questions? Contact us:
http://McFly.aero
https://www.facebook.com/mcfly.aero/
https://t.me/tomcfly