Orange is the new black, and EOS dApps are the new ICOs. While the rest of the crypto world has turned into one giant stablecoin in the last half a year (meaning: the market has been flat for so long), things are drastically different in the EOS world. And the funny thing is it's kind of a well-kept secret! Just look at this snapshot of the EOS dapp pairs trading on Newdex.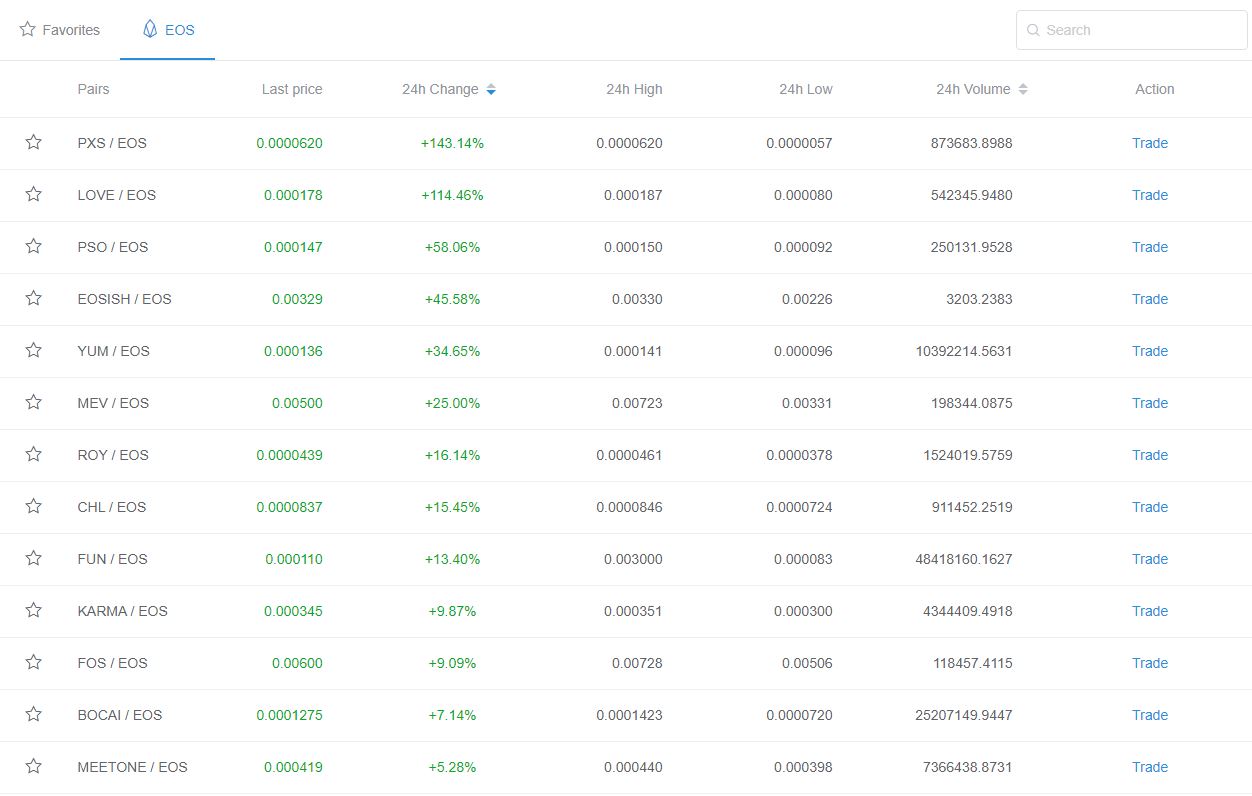 Obviously, I sorted these in order of 24h % change to show you all the top projects and instill FOMO in your brain. There are a lot more out there, happily trading away with very solid volumes, even by a decentralized exchange standards. There's definitely money to be made (or lost) in this market.
One of the more exciting EOS dapp projects out there is BetDice. We covered it before here. But even in a few weeks period there has been a tremendous amount of changes and development in this project that are worth sharing. As a refresher, BetDice is a gambling project that lets you make bets via an EOS platform using one of the integrated EOS wallets such as Scatter.
There's a Bunch of New Tokens You Can Bet With
As of recently you can make bets not only with EOS or its native token DICE, but also with a bunch of other "affiliated" EOS-based tokens. Just toggle between the various options by selecting one of them at the top of the screen:

Baccarat
If you are one of the many gamblers who love playing Baccarat - rejoice. The team has recently added this popular game to the dApp. This game is extremely popular among the Asian gamblers. In Macau which has some time ago dethroned Las Vegas to become the top gambling destination in the world, 88% of all casino profits are made on baccarat. BetDice whose team is located in Hong Kong and whose audience has a significant portion of Asian gamblers couldn't pass on this opportunity.
If you are an investor rather than a gambler, you should still be extremely excited about the addition of Baccarat. Just like in Macau, you can expect a significant portion of BetDice's profits to come from Baccarat.
Baccarat has only been live for a week now, but it already generated close to 13M EOS in bets at a 1.23% profit. This is approximately 1/10th of the Dice game wagered amount which was project's original game. These are only bets placed using EOS, there are other tokens bets here too, which I haven't shown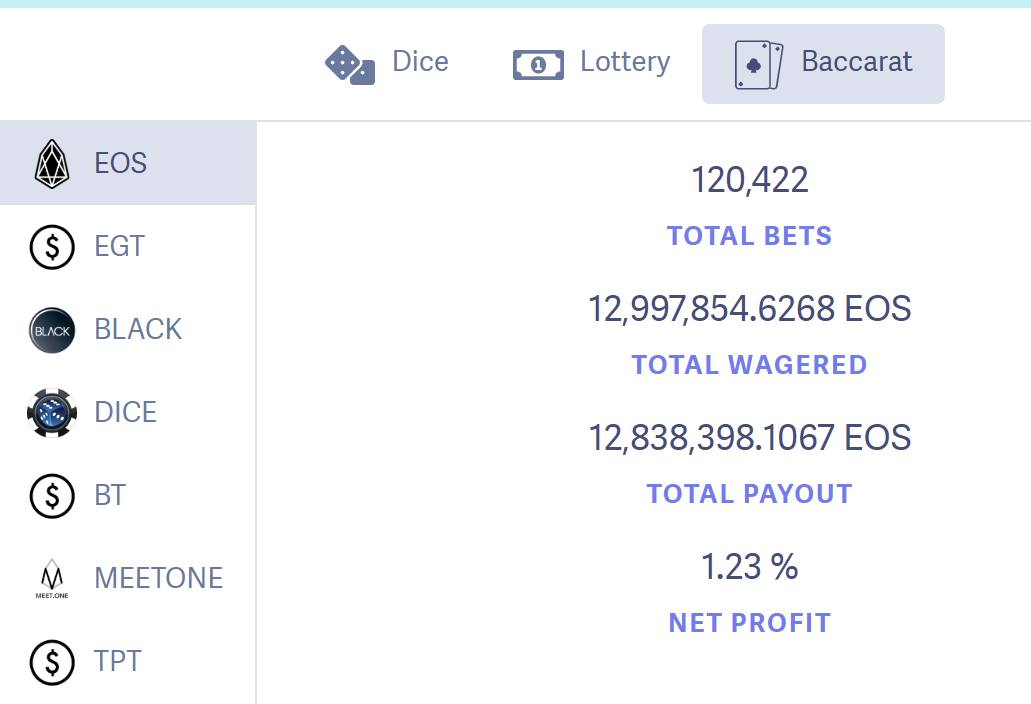 New All-Time High Volumes
Overall, if you weren't paying attention, BetDice has been generating insane amounts of EOS volume and their user base remained steady. Some of the days saw volumes of 10 and even 13 m EOS. That's $50-70M bet volume.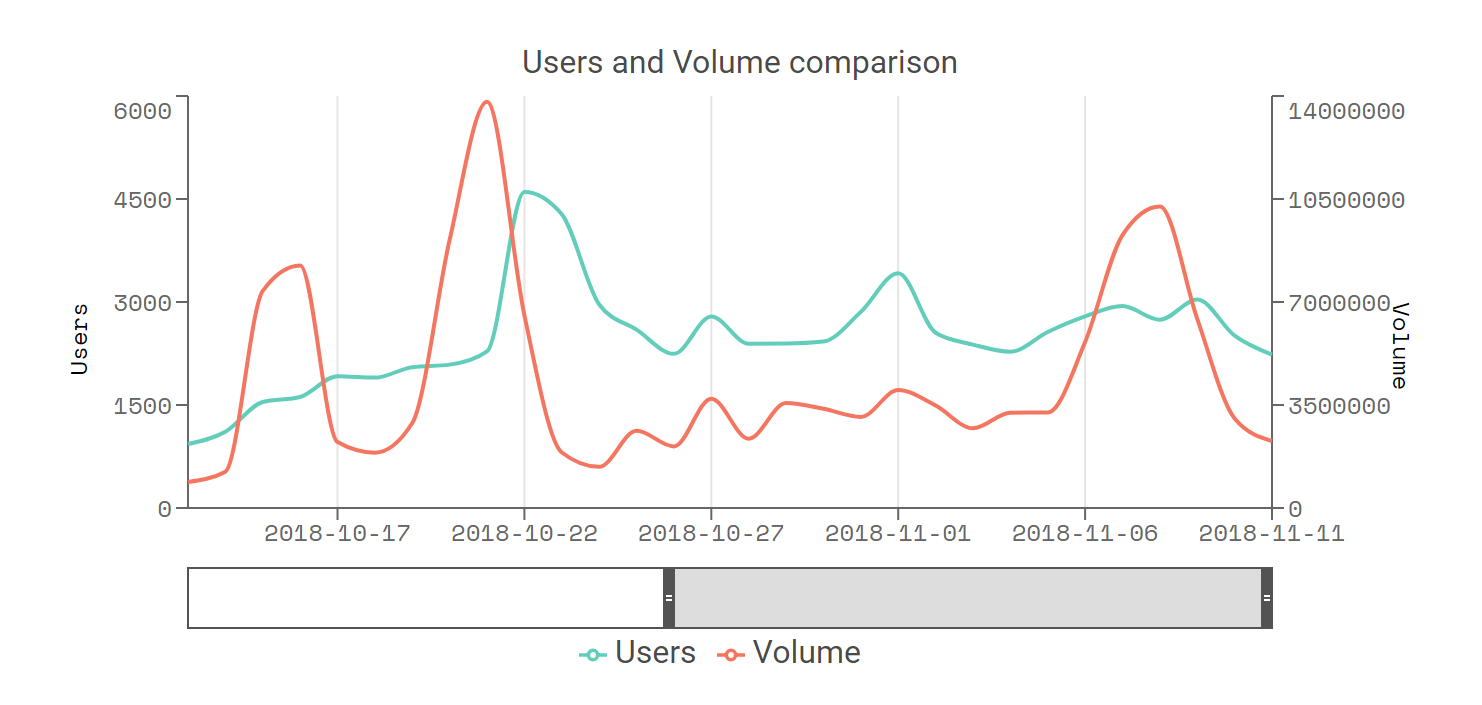 I don't have the stats but I would imagine this could be comparable to volumes generated by some of the larger established casinos in Vegas or Macau. For instance this article claims daily volume of approx. $1.3M per table at the Wynn Macau.
Copycat Products
There has been a huge influx of copycat products that flooded the market seeing how profitable this area has been so far. Although I fully support healthy competition, there is unfortunately a large number of these projects that either just have half-baked products, or have poor execution, poor quality, or are just plain and simple outright scams. Lots of shady characters in this field these days so players and investors really need to be careful about choosing which product to give their EOS to. These products, albeit hopefully being a very short-term phenomenon, distract attention from good projects, create bad publicity and just leave a bad taste in your mouth. One day I am going to write a whole separate piece on scam projects in the gambling world because we all need to work towards the same goal of taking out the garbage out of the house and "draining the swamp".
However, there could always be a positive twist to everything. I tend to agree with this user:

-----------------------------------------------
White Rabbit is an ICO Discovery platform. Find out more on our website and join our Telegram.